Santa Craft Ideas

*The best Christmas Decorations ever*

Welcome to Santa craft ideas headquarters where you will find fun craft ideas to ring in the ho-ho-ho holiday.  Santa is checking to see if you are naughty or nice so be on your best behavior.  I bet you could win some "brownie points" by trying the simple Christmas crafts you see below.

Santa Crafts

* If you see a craft ideas you would like to try, click on its picture and you'll be taken to a step-by-step tutorial that will show you how to make it.
---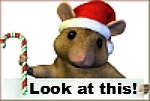 If you have any Santa craft ideas that you would like to share with everyone then please contact me and I will certainly post them (with full credit going to you for your craft, of course).
---

History of Santa Claus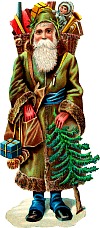 There are many different legends about the origin of Santa Claus but the one most seem to agree on is that St. Nick lived in Turkey in the 4th century.  He was a child of Christian parents and was taught to love God and do good unto others.  As an adult he became the bishop of Myra and performed many good deeds, especially for children and sailors.  After his death he was named the patron saint of children and was given his very own feast day that was celebrated on December 6th.

December 25th

Santa's feast day was celebrated on December 6th so why do we have Christmas on December 25th?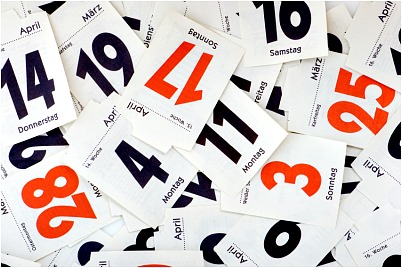 Julius I was Pope during the time Nick lived and he wanted there to be a day set aside where everyone could celebrate the birth of Jesus.  No one actually knows Jesus' exact birth date so Pope Julius picked December 25th to be the holy holiday.  What made him choose December 25th over every other day of the year?  Well, at this time there was a pagan festival that was held on December 25th every year.  Pope Julius hoped that celebrating the birth of Jesus on the same day would bring Christianity to the pagan festival.
Over time the Pope's wish became a reality and St. Nicholas' Feast Day became associated with December 25th.

Christmas in America

Ok, so we know how Christmas came to be in Turkey, but what about America?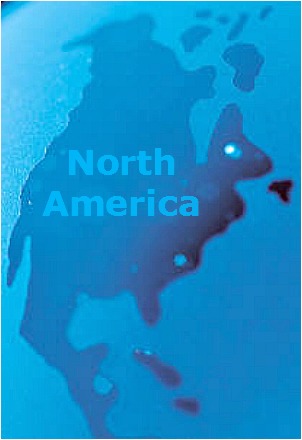 It is believed that we adopted Saint Nicholas from Dutch customs after the Revolutionary War and his image was firmly established in different ways:
Washington Irving included good old St. Nick in a comic he wrote in 1809 entitled "History of New York City."
John Pintard, who was the founder of the New York Historical Society hosted a St. Nicholas anniversary dinner in 1810.
Alexander Anderson was an artist who was hired to draw a picture of St. Nick for this dinner.  Anderson drew him as a religious figure who was putting gifts into children's stockings as they hung by the fireplace to dry.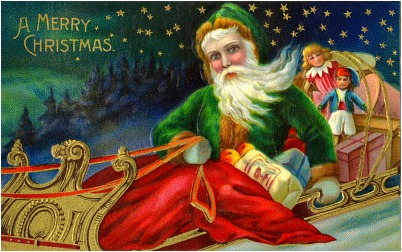 In 1822 Clement Moore wrote a poem called "A Visit from St. Nicholas."  In this poem Mr. Moore added a few features to the character of St. Nick.  He described him as a little fellow with a sleigh that was pulled by eight miniature reindeer who flew him from house to house.  And once St. Nick landed on the roof of a house he would slide down the chimney and leave gifts in stockings that were hung by the fireplace.  Today, this poem is better known by the title "'Twas the Night Before Christmas."
A 19th century cartoonist by the name of Thomas Nash drew pictures of St. Nick.  In these pictures Santa was living at the North Pole, had his very own workshop where he could build toys, and had a huge book that was filled with all the names of the children around the world.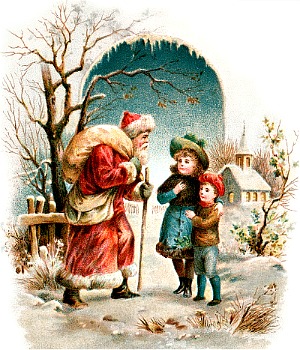 Norman Rockwell (a famous artist) painted pictures of St. Nick in 1921 and in these pictures he was wearing red and white.

In the 1940's the Coca-Cola company featured Santa in one of their advertisements.  In the advertisement Santa was dressed in a suit of red and white.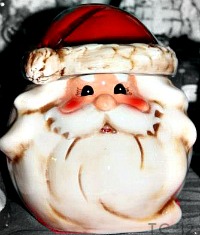 So now we have a jolly old chap who makes toys for children in his workshop all year round.  Then on Christmas Eve he dresses in his suit of red and white and climbs into his toy-packed sleigh being pulled by eight reindeer.  The reindeer fly him all over the world so he can slip down chimneys and bring gifts to all nice boys and girls.  And that jolly old chap is none other than the beloved Santa Claus who has inspired these terrific Santa craft ideas.


Santa Collector

I love Christmas and fun Santa craft ideas.  I love shopping and wrapping gifts.  I love watching all the Christmas specials on TV and listening to Christmas carols. I love all the yummy, yummy goodies that always available.  I love seeing all the lights and decorations whenever I am driving in my car.  I love the peace, joy, and hope that encompasses the whole holiday.

And I love Santa Claus!  I am actually a Santa Claus collector (that's my collection above).  For about 15 years it has been tradition in my family to buy one new Santa for me for Christmas.  I am always excited to open that gift and see what my new Santa is going to look like.  And once I have seen him I snuggle him in with the rest of the Santa's in my collection.
And my joy of Christmas is what brings these Santa craft ideas to you.  Enjoy!

Happy Holidays!

I would like to finish this Santa craft ideas page by wishing all of you a very merry Christmas that is filled with family, friends, and lots of love.  "Merry Christmas to all, and to all a good night!"
What do I hear?
Was that a crack?
Oh no, it's drawing near ...
it's only Santa opening his sac.